Animal Adventure is one of our most fun products. This package takes you through 8 or 14 days of close animal encounter in the wild.  It is indeed a great feeling when you see a wild animal at close range. Nothing in this package is prepared or staged.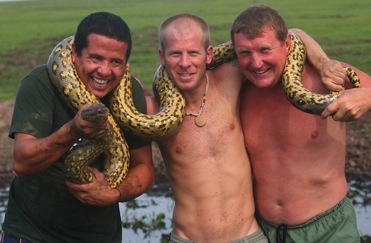 The animals are found in the wild and you get the chance to see them very close and learn about them. Since Pitangus focuses on specialized and scientific tourism, our guides on the Animal Adventure package are very well prepared and knowledgeable about the animals and the ecosystems they depend on.
This package begins with a plane transfer from Caracas national airport at Maiquetia to Barinas national airport.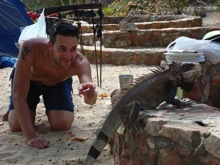 From there, a 3-hour jeep ride into the heart of los Llanos to visit a camp called Los Mangos. Four days in this camp will take the our visitors face to face with some of the most interesting species of animals of the Venezuelan flatlands: Anacondas, Boa constrictors and other snakes, Spectacled Caiman, Orinoco Caiman, Giant Ant-eaters, clear water Dolphins,  Matamata Turtles, Otters,  Jaguars,  White-Tailed Dear and hundreds of birds.
After Los Llanos, the pax is taken to Merida for a day's rest in downtown Merida and a night out in the popular bars and nightclubs of this colonial Andean city.
Then, the trip continues on to the north side of the Andes to Concha river located on Maracaibo lake's basin. In here, the pax will go on two safaris on Concha river.  One during the afternoon on arrival and one at night on the same river.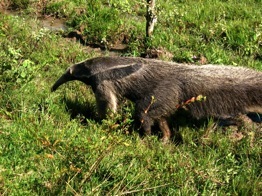 interesting species of animals can be seen in this part of the country; birds are among the most abundant in this area but also spectacled caiman (fuscus subspecies) Tree-climber snakes, Tornasol and Emerald boa and other snakes that can be found on the mangrove forest on the edges of the river. 
On the 14 day trip we take an overnight bus transfer to Falcon State and the city of Coro. In here the group will visit the dunes of Paraguana Peninsula and then go to the national park of Morrocoy which holds some of the most beautiful islands in Venezuela. In this location the group will have the opportunity to go snorkeling in the beautiful coral reefs of this park. From here we'll go back to the city of Coro for a domestic flight to Caracas National Airport.